Ahlfors-Bers Colloquium
Stony Brook, November 6-8 1998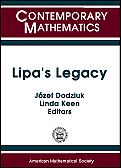 The conference proceedings of the Ahlfors-Bers Colloquium 1998 will be published by the American Mathematical Society in the Contemporary Mathematics (CONM) book series, the same series where the proceedings of the Bers-Colloquium, held in October 1995 at CUNY, were published under the title Lipa's Legacy.

Colloquium speakers are invited to submit research or expository papers. All other participants are invited to submit research papers. All manuscripts will be refereed.

Contemporary Mathematics is an author prepared series. The A.M.S. produces the volume directly from the dvi file or hardcopy submitted. Therefore, prior to submission, authors should carefully proofread the manuscript. Authors are advised to read the attached instructions carefully before preparing a manuscript. Manuscripts not prepared according to these instructions will have to be returned to the authors for reformatting.

Please be aware that there is a deadline of January 1, 1999 for submission of manuscripts.